I want to review this book!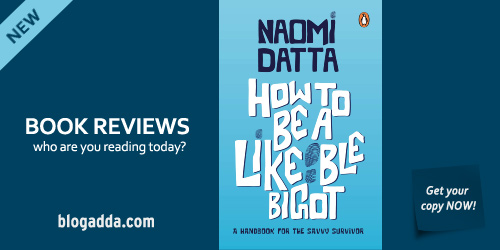 We have 15 copies of book 'How To Be A Likeable Bigot' up for review!
Overview of the book:
In this collection of satirical essays in her deft, inimitable style, Naomi Datta tells you how to survive various situations – from how to befriend tiger moms to how not to get a pink slip- simply by being 'ordinary'. 'How To Be A Likeable Bigot' celebrates conformity and tells you how to be perfectly regular, to blend in and be largely forgettable. It is a fine art-moderation. This book will hold up a mirror to all of us, and we may not like what we see.
About the Author:
Naomi Datta
is a creative director, presenter and writer with a number of leading channels. She is the author of the satirical,
The 6 P.M. Slot
, published by Penguin Random House India. Naomi is a frequent and widely followed commentator on mass culture through her Twitter handle
nowme_dutta
and her columns in various publications.
Three simple steps to show your interest in reviewing
'How To Be A Likeable Bigot'
Step 1:
Sign up for the
Book Review Program
, if you haven't already. Proceed to the next step if you have already signed up.
Step 2: Kindly read the overview of the book above and apply if you are interested.
Step 3: Please enter your username below to review this book.