I want to review this book!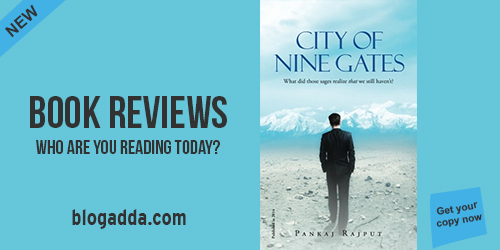 We have 25 copies of book 'City of Nine Gates' up for review!
Overview of the book:
An atheistic millionaire is forced to find and help his long lost friend achieve self-realization in a mystical City of Nine Gates known only to the Gods and the wisest sages of the Advait and the Sankhya. Assisted by other friends in the City, he leads the City on an inward enlightening journey, only to realize at the end who his friend is, what actually the City of Nine Gates is and who is that beyond all regions knowing which one never comes back …
About the Author:
Pankaj Rajput the author of the book City of Nine Gates, works as a Financial Risk Manager for an Investment Bank in Mumbai. His interests across time have ranged from Physics to Metaphysics to Spirituality. His belief that truth is absolute yet the ubiquitous diversity in nature ranging from atoms to people to philosophies to even the gods we worship, motivated him to write the vedic fiction, City of Nine Gates. He is currently working on its sequel tentatively titled - The Return of Karn where Gyan encounters the greatest spiritual warrior ever and the end of all worlds.
Three simple steps to show your interest in reviewing
'City of Nine Gates'
Step 1:
Sign up for the
Book Review Program
, if you haven't already. Proceed to the next step if you have already signed up.
Step 2: Kindly read the overview of the book above and apply if you are interested.
Step 3: Please enter your username below to review this book.